Ring Size Chart
| Size | Inch (circumference) | millimeter (circumference) | | |
| --- | --- | --- | --- | --- |
| Child Size XS | 1 3/4 | 44.5 | 3 | 44 |
| Child Size S | 1 25/32 | 45.2 | 3.5 | 45 |
| Child Size M | 1 13/16 | 46 | 4 | 47 |
| Child Size L | 1 7/8 | 47.6 | 4.5 | 49 |
| Woman Size S | 2 1/16 | 52.4 | 6 | 52 |
| Woman Size M | 2 1/8 | 54 | 7 | 55 |
| Woman Size L | 2 1/4 | 57.2 | 8 | 57 |
| Man Size S | 2 5/16 | 58.7 | 9 | 59 |
| Man Size M | 2 7/16 | 61.9 | 10 | 62 |
| Man Size L | 2 9/16 | 65.1 | 11 | 65 |
HOW TO KNOW MY RING SIZE?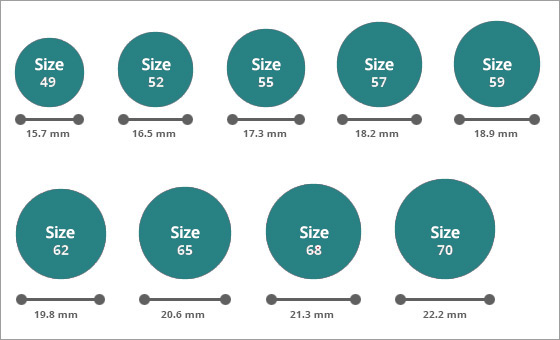 Print out the size chart at a full 100% size
place one of the rings you own and that fits you well over the orange circles.
The one which bets fits will be your ring size.
Check your size according to your country, and order accordingly.